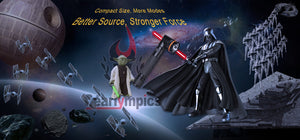 Gearlympics most Popular Flashlight Tribute to Star Wars ...
Gearlympics most popular flashlight tribute to the forever Star Wars and 
The Hitchhiker's Guide to the Galaxy!
Have some fun.
In the spirit of adventure, to boldly go where no one has gone before... 
Sorry, where is this line from? I am a bit confused 😂😂😂
Compact size, more modes.
Better source, stronger force.
You can not definitely judge one by his size. 🖖🖖🖖🖖🖖🖖
The B70-2018 flashlight is an upgraded version of B70. The highest lumen has upgraded from 300-lumen to 800-lumen. And B70Plus is 950-lumen in super mode. Both of them have the magnet base to free your heads and twist head to light up every corner.
What's more? There is an easy switch from white light to green light and red light for both of them.
Lord Vader would really like this idea.
Find the most popular flashlight 2018 here: 
B70-2018: https://bit.ly/2wnEtY7
B70Plus: https://bit.ly/2LYGKmM
My phone is out of power! 
This must be the most widespread panic of today.
Well, Gearlympics G90-2 Flashlight is a darkness shatter as well as a standby power bank. Applying the 18650 Li-ion battery, this flashlight is rechargeable. The 2 hours' runtime in the 800-lumen high mode is really super!  You can also switch to the SOS and strobe mode in case of need. And don't forget it is a 3400mAh standby power bank. Would these characteristics make it the most popular flashlight of 2018? 
Don't panic! 
This most popular flashlight would really help to solve the widespread panic of today.
Find it here: https://bit.ly/2MQuocw
Have fun. 
Find the best outdoor flashlight in your heart here.
---