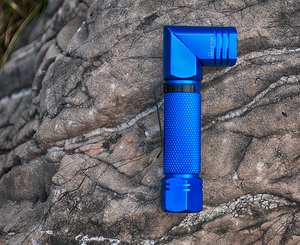 Nicron B74 Ledflashlight Test Results
Referring to the brand of NICRON, Outdoor players are no strangers. "Safe and reliable mobile lighting tools",Nicron always focusing on product excellence, continuous improvement and innovation. Give the outdoor players a stable and reliable experience with a low-key reality.

This article is divided into three parts to test and summarize.


I. Overall overview

This model is B74 flashlight.Maximum brightness of LED is 600 lumens.Maximum range is 110m.Weight is 56g (excluding battery and charging cable).Length is 11.2cm.The gear is adjustable. It has gear memory function and 100 lumens. 7 hours of battery life, IP65 Waterproof and rainproof, 14500 lithium battery, or an AA dry battery, suitable for daily carrying, camping, hiking, night riding and other sports.

Second, the packaging configuration


Nicron B74 flashlight package is packed in a plastic case, simple and clear, and features a pull-out suspension for easy storage.


Open the package,  Nicron B74 flashlight configuration is as follows: Nicron B74 flashlight, a charging cable, a spare waterproof ring, a 14500 lithium battery, a flashlight back clip,warranty card, very practical outdoor equipment.


Nicron B74 flashlight four colors are available, classic gray, pull blue, champagne gold, apple red, the author chooses the pull blue, a sky color.

Third, the flashlight details


Nicron B74 flashlight uses a US CREE XP-L HD V5 illuminator. The luminous flux of the XPL unit power is higher. In addition, the package size is smaller, so it can use on compact flashlight or more focused Long shot. The resistant B74 luminous flux reaches 600 lumens, and can adjusted to low-light-medium-highlight three-speed, which is suitable for most of the requirements of use.


The surface of the flashlight designed with anti-slip texture and knurling design. This design is both beautiful and prevents the flashlight from slipping. The flashlight is made of aluminum, the structure is firm and lighter, smooth and delicate, wear-resistant, anti-corrosive, and has a good visual effect.
Here are links for the stuff you'll need. Nicron B74
Make sure you use the coupon code "OHDY-H452-AASK" for a nice discount on this

https://gearlympics.com/collections/led-flashlight/products/nicron%C2%AE-magnetic-twist-rechargeable-led-flashlight-b74
-------------------------------------------------------------------------------------------------
https://www.ebay.com/itm/Nicron-480-Lumens-4Models-Magnetic-Rechargeable-LED-Flashlight-Waterproof-B74/362407169944?var=&hash=item5461268f98

---